High Thyme Cuisine and Cocktails Announces Happy Hour
Escape to the island as High Thyme introduces Happy Hour specials starting this week on Tuesdays through Saturdays from 5pm-7pm. The popular upscale island dining destination will offer $1 off beer, $2 off twenty-five wines available by the glass and $2 off liquor drinks. Patrons can also relish in $2 off the selection of delicious appetizers that include Steamed Mussels, Pan Seared Scallops, Crispy Pork Belly and much more. High Thyme is a perfect spot at happy hour to grab an after work drink in the cozy bar or have a meal on the deck overlooking the quaint island scenery.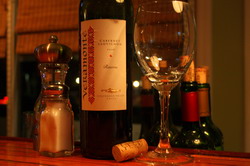 "We're kicking Happy Hour off for our guests who enjoy going out early," said High Thyme owner Kenny Jones, "They can relax with a spirit and enjoy a meal that won't break the budget."
As one of Sullivan's Islands best kept secrets for many years, High Thyme Cuisine and Cocktails offers a blend of ingredients that are just as tasty as a home prepared meal while on vacation or just enjoying another day at the beach. Executive Chef Taylor Still delivers quaint island cuisine that gently blankets the taste buds. From the freshest fish, beef, chicken and pasta to many unique salads and appetizers, there is always something for everyone at High Thyme.